News
THE 2012 B.I.G REVIEW JUST ARRIVED
The 2012 B.I.G review just arrived at home this week.
With 114 pages full of adventures reminding what our members have to live during their climbs everywhere, with plenty of interviews and of histories happened in the year 2011, this review is your review. Some are still in our stock, but not so much. Read the menu "contributions" to see how to receive it.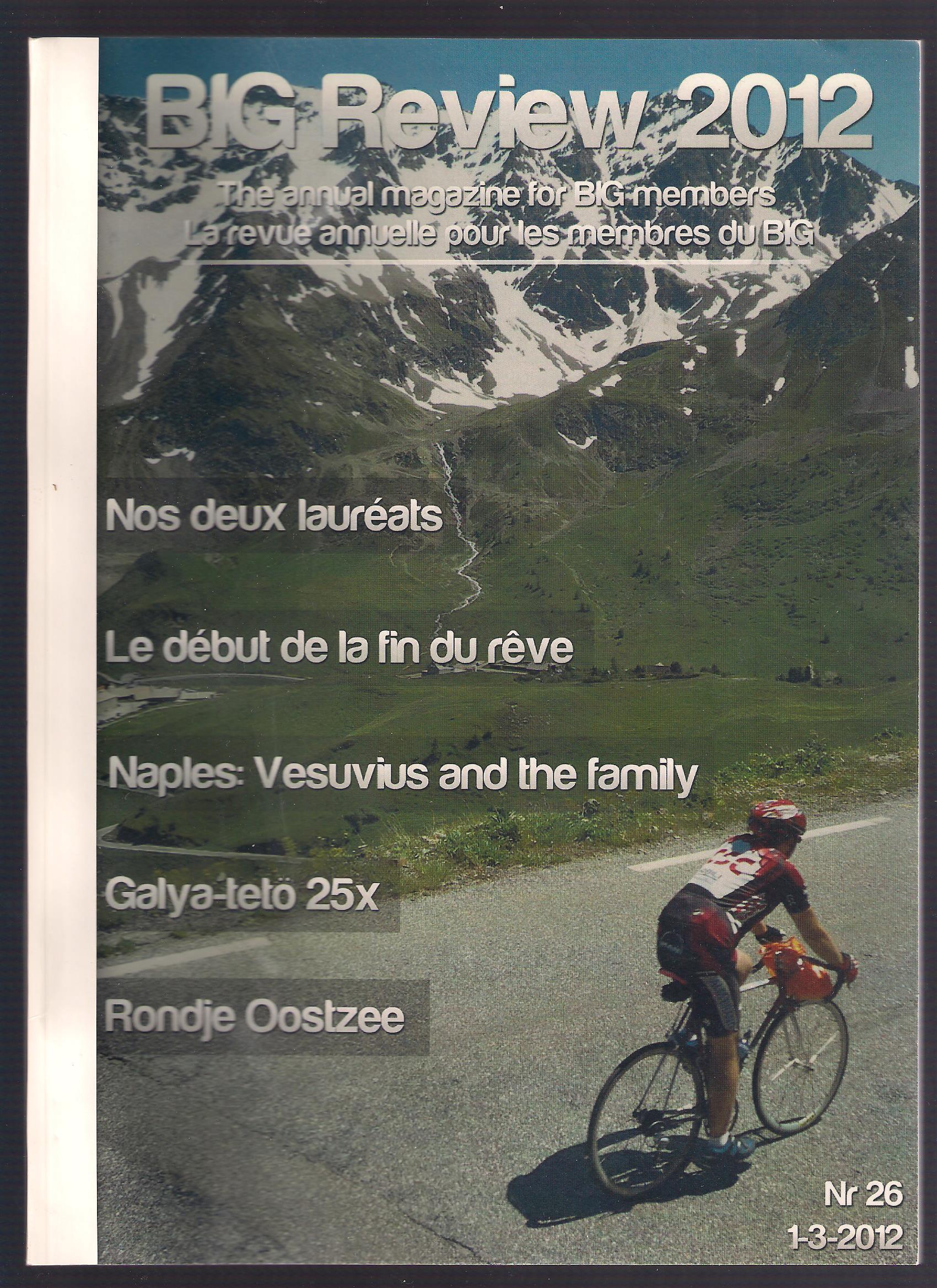 The team thank to whom you receive it has notably inside Martin Kool for the edition, Etienne Mayeur for the printing and Dominique Jacquemin for the distribution. You can see the table of contents by clicking on "Read more"
<!more!>
TABLE OF CONTENTS
Cover Col du Galibier
La table des matieres/Table of contents 1
Daniel GOBERT Le mot du president 2
Events 2012 Meeting Tatras 3
Events 2012 Crossroad Scotland 4
Superlist 5-9
Classement Général 10-11
Classement claims 2011 12
Charts / Statistiques 2011 13-17
Dépenses et recettes 2011 16-18
Monts de France 19
Interview Lauréat 1.000 Winner Etienne MAYEUR 20-24
Interview Lauréat 1.000 Winner Eric LUCAS 25-32
Interviews Their way to the BIG 33-49
Michel MENARD Récit (en résumé) de l'histoire authentique, qui m'a le plus marqué au cours de ma carrière cyclo 50-51
Gerard van DONGEN Biggen met pubers 52-54
Wim van ELS Rondje Oostzee 55-56 1
Roland SCHUYER Kandel 57-58 4
Dominique JACQUEMIN BIG Carrefour à Nice 59-61 5
Rob BOSDIJK Our official 2011 meeting on Corsica 62-63 5
Jan THEELEN Venlo-Ventoux! 64-65 5
Luigi CANDELI La mia prima PARIS-BREST-PARIS 66-70 5
Jerry NILSON Jerry's Tour of the Alps 2011 71-74 5
Gábor GYÖRGYI My most memorable cycling days in the summer of 2011 75-79 5-7-8-9
Rémi FURON Raid transalpin Vienne-Genève 80-81 7-8
Kevin SPEED Switzerland 2011 82-85 7
Martin KOOL Oostenrijk/Austria 2011 86-88 8
Dirk VISSERS Van marathonloper tot BIG fietser 89-92 9
Giani CUCCONI Colle delle Finestre e Sestriere 93-96 9
Raphael COUCKE Sejour dans le Valtellina 97-100 9
Giordano CASTAGNOLI I BIG d'Abruzzo 101-103 9
Claudio MOINTEFUSCO Naples: Vesuvius and the family 104-105 9
Gabor KREICSI Galyatetö 25x 106-10Etienne MAYEUR This is it ! 108-113
Dominique JACQUEMIN a Etienne, le plus grand 114
Archive