Nowy użytkownik
News
MEETING 2015 in GREECE : DO YOU TAKE PART ?
2014-08-09 GOBERT Daniel
A special and tremendous official annual meeting will appear in 2015, for our 30th birthday, a meeting in the unusual cycling country called Greece, so wellknown for its touristic attractions.
The hot weather in summer, the long distances between the bigs, the country far away from many of our homes will give to this meeting a special character and a special feedback.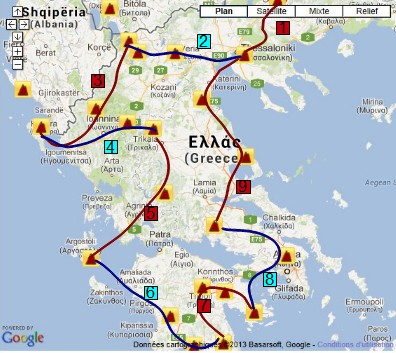 To insure the success of this meeting, and because we have very few greek members in our members'list, we're trying to build a managing group working especially on this coming meeting, and if you want to take part in this group, don't hesitate to tell us.
Some answers to some questions will help this group to organize better the general travel.
A first suggestion can be a long tour like shown in the map, but many other solutions exist.
For the members havins perhaps the intention to take part in this meeting, it sould be great if you answer to these questions and send them back HERE .
1. Which percentage would take your presence in this coming meeting if it happens
* Middle of April - 5 days : .....% - 10 days : ... %
*End of may May - 5 days : ....%- 10 days : ... %
* in july - 5 days : ......% - 10 days : ....%
* in november - 5 days : ......% - 10 days : ..... %
2. What do you prefer ?
* a general travel only by bike with stages over 100 km, long but with mainly cycling activity
* an efficient meeting with transfers by cars, to win the most possible bigs
3. Do you prefer ?
* a northern tour from Thessalonique to Thessalonique (5 days)
* a southern tour from Athens to Athens (5 days)
* both (10 days)
Thank you very much for your eventual answers and your fidelity to our dear challenge.
...
Read more
A LOT OF NEW GODFATHERS
2014-08-09 GOBERT Daniel
The year 2014 follows the way of the previous years with the ironbig. A lot of new godfathers appeared.
In the leading place, our Ironménard reached the amount of 32 ironbigs already claimed. It's amazing !
You can find the details in the special pages HERE linked to this special parallel challenge of the great B.I.G-challenge, appeared 5 years ago for our 25th birthday. Next year, for our 30th birthday, a new kind of challenge, in group this time, will appear.
Gabor, Michel and Claudio : 3 godfathers together
The other claimers of this year 2014 are until now :
* some groups climbing 25 times on dutch bigs : Miel Vanstreels or Silvan Vijver on Keutenberg, Johan De Groot, Helmuth Dekkers and Roland Schuyer on Oude Holleweg, or Jan Batist Staneke alone on Italiaanse Weg
* some spanish guys climbing 25 times inside one year their long big : Angel Morales on Coll de Pal, Claudio Montefusco on Coll Formic and Javier Costas Torre on Monte Aloia.
* some guys who aren't at their first ironbig like Gábor Kreicsi on Grubberg, Coen Schillemans on Berdorf Gorges du Loup, Arnaud Decostre on Muur van Geraardsbergen, Luigi Spina on Poggio di San remo and our ironsecretary Helmuth Dekkers on the german Waseberg.
* some new ones too, with Didier Cadelano on the swiss col du Marchairuz.
Let's congratulate all of them for this challenge that builds every time a great personal success on oneself.
...
Read more